You Don't Have to Struggle to Be a Writer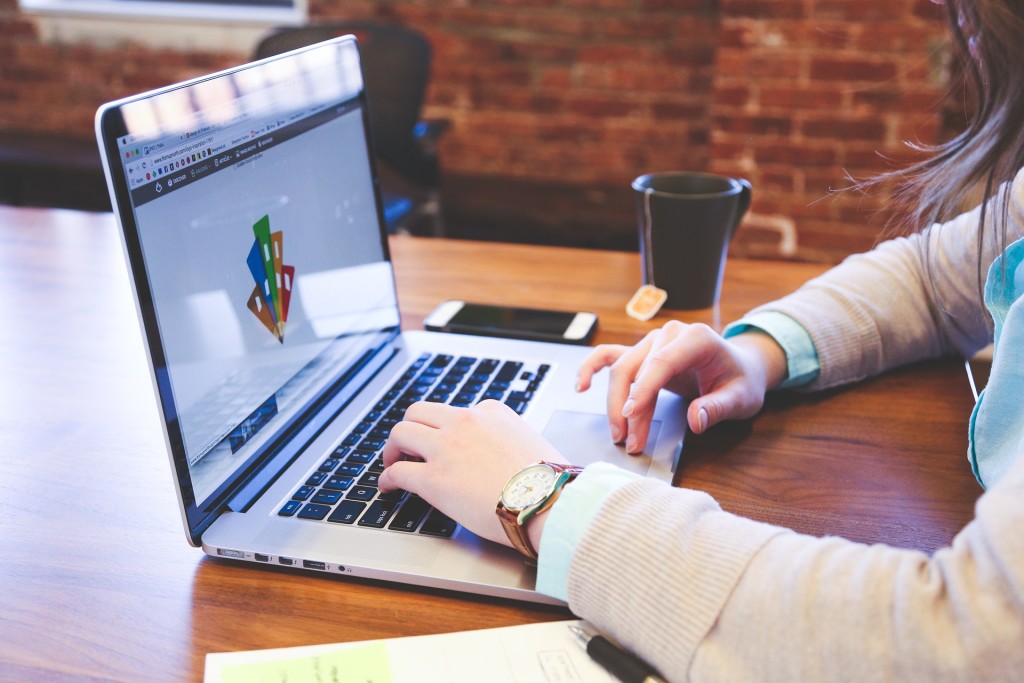 Hello,
I'm Suzanne Lieurance, the Working Writer's Coach. I'm also a freelance writer and the author of over 35 published books. I'm lucky to work whenever and wherever I want because many years ago I was able to become a freelance writer and published author.
Have you tried to become a writer but not much has happened?
You haven't landed many (or any) well-paying assignments or clients or written or published any books.
As a result, you've never made much money writing?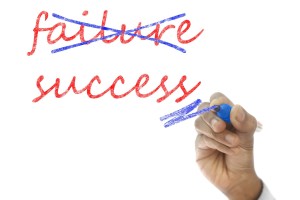 If so, see if any of these statements sound like you:
• You don't know how to set the right goals for your writing or your business. As a result, your writing business and career have never really gotten off the ground because you constantly struggle to stay focused.
• You don't have any real income goals. What income goals you do have are more like income "dreams" because you have no clear-cut action plan for earning a specific amount of income as a writer.
• You don't know how to effectively and consistently market yourself as a writer.
• You lack confidence. As a result, all you ever do is write for free or for low-paying online "content mills."
• You don't know how to identify your ideal clients and/or target markets so you aren't clear about what you will write and who you will write it for.
• You can't seem to manage your time effectively to get your writing business started because "life" keeps getting in the way.
• You lack specific writing skills and training that you know you need if you want to make a good income as a writer.
If any of these statements described you, you're just like thousands of other people who say they want to make money writing but never seem to make it happen to any great extent. Either they never get their freelance writing career started or they start it but never make very much money writing.
But don't worry.
This doesn't have to happen to you.
With my Quick Start Coaching Intensive, you'll get the guidance you need to build a lucrative writing career within just a few short months.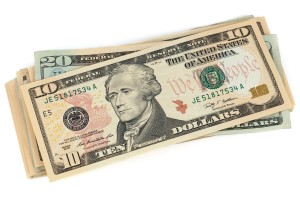 I did it. And you can, too.
My Story
For many years I was a full time high school English teacher in Kansas City, Missouri, and a "sometimes" freelance writer.
Then one day, I decided it was time to leave the classroom and make my writing more than a "sometimes" event.
But while I COULD write all day, every day if I quit teaching, I could NOT guarantee that editors would publish my cute stories and articles, which were mainly written for children.
So rather than simply submit my manuscripts to various publishers, then sit back and wait for my writing career to begin, I took a more proactive approach to creating the writing career of my dreams. And guess what? It worked.
Within 3 months I had more than doubled my monthly salary as a teacher – so I never went back to the classroom.
These days I write from my home on the coast in southern Florida. I also coach writers all over the world to make excellent money freelancing, and I'd like to help you, too. That's why I've created my Quick Start Coaching Intensive.
This Quick Start System was designed to lead you step-by-step to start a freelance writing business:
• Create the right professional goals and income goals that will make it easy to stay focused on your path to success.
• Develop a 120-day action-plan for reaching your goals.
• Develop a workable writing schedule so you can enjoy your life without feeling frustrated or stressed as your build your income and your business.
• Be accountable for taking the action you must take to move ahead (daily accountability helps you take consistent action).
• Enjoy your life without feeling frustrated or stressed as your build your income and your business.
• Develop your professional website to build your credibility and visibility to attract clients and customers.
My Quick Start Coaching Intensive is an incredible value because it includes:
• A one hour intake call to help determine your goals and action plan.

• Sixteen (30 minute) one-on-one coaching calls with me over the next 120 days.
• One (30 minute) group coaching call with me and other writers in my Coaching Intensive every month for the next 120 days.
 •  Membership in my online listserv for writers for the next 120 days, for additional support and accountability (use this listserv as a critique group and to share resources and to stay motivated).
• My Goal Setting Guide for Writers (a $297 value).
• Daily accountability emails.
• Unlimited email support.
• Some basic tools and resources needed to start a freelance writing business.

• A 30 minute exit call to determine your next steps.

My Quick Start Coaching Intensive will show you how to:
• Identify your ideal client and/or your target markets.
• Package your writing services for higher sales and higher conversion rates.
• Know what to charge for your writing services.
• Manage Your Time More Effectively So You Run Your Business More Efficiently.
• Create a marketing plan for your business.
Now . . . this coaching program doesn't require a long-term commitment or too much cash.
But it does require 120 days of focus, determination, and enough money that you have some "skin in the game" to show you're serious about creating a writing career or writing business and you're no longer content to just dream about it.
If this sounds like something you're ready for, I invite you to register now and we'll get started right away.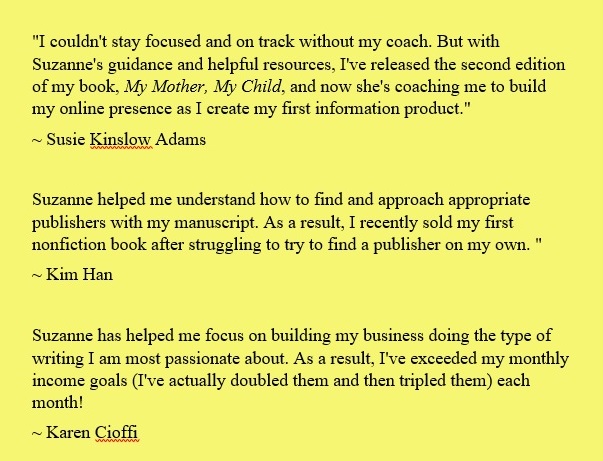 But wait . . . there's more.
SPECIAL BONUS
Because I know so many beginning freelance writers need all the resources they can get, I've added a special bonus to my Quick Start Coaching Intensive package.
When you register for my Quick-Start Coaching Intensive you will also get free membership in the Wealthy Writers Club.
The Wealthy Writers Club is the ultimate resource site for writers with new resources being added all the time.
Register for my complete Quick Start Coaching Intensive here now.
Availability is limited, so don't wait!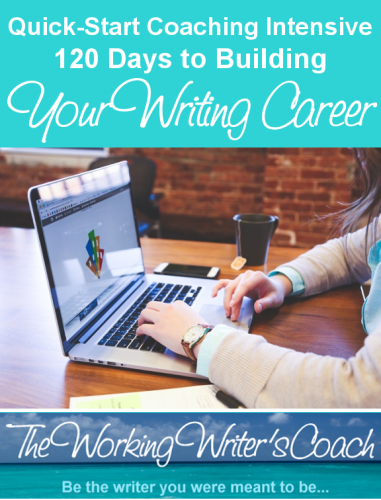 Register for myQuick Start Coaching Intensive here now: One payment of $997.00
Or two monthly payments of $550.00 each.
To Your Success,